Joe S. Devinny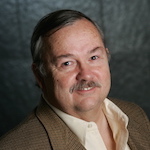 Professor Emeritus of Civil and Environmental Engineering
Education
Biography
---
B.S. - 1969 - Chemistry - Caltech
M.S. - 1971 - Chemistry - Oregon
Ph.D. - 1975 - Environmental Engineering Science - Caltech

Most recently, Dr. Devinny and his research group have been performing research on biofilters. These devices clean the air by passing it through a damp porous medium that supports a vigorous culture of microorganisms. The contaminants dissolve in the water, and are degraded by the organisms. Biofilters are appropriate for low-concentration, high-volume discharges, such as odors from wastewater treatment plants and organic vapors from manufacturing. The group's work has involved construction and operation of bench-scale, pilot-scale, and full-scale biofilters.

Dr. Devinny is also associated with USC's Green Visions project, and has published several reports that can be found on the project's Web site.


Research Summary
---
* Environmental impact of human activity on natural
* Ecosystems
* Biofiltration for Air Polllution Control
* Biofiltration


Awards
---
2005 Los Angeles Regional Water Quality Control Board Annual "Excellence in Research" Water Quality Award
2000 American Society of Civil Engineers Journal of Environmental Engineering Editor's Award
1999 Invited Session, 1999 American Control Conference, San Diego Best paper in session
1996 American Society of Civil Engineers J. James R. Croes Medal
1995 School of Engineering Outstanding Teacher Award
1994 National Academy of Engineering of Armenia Elected Foreign Member
1993 Environmental Engineering Division, American Society of Civil Engineers Wesley W. Horner Award
1977 University of Southern California Distinguished Undergraduate Teacher in Civil Engineering
Appointments
Sonny Astani Department of Civil and Environmental Engineering
Office
Kaprielian Hall
3620 South Vermont Ave., Los Angeles, CA 90089
USC Mail Code: 2531
Contact Information
(213) 740-0670
devinny@usc.edu
Links